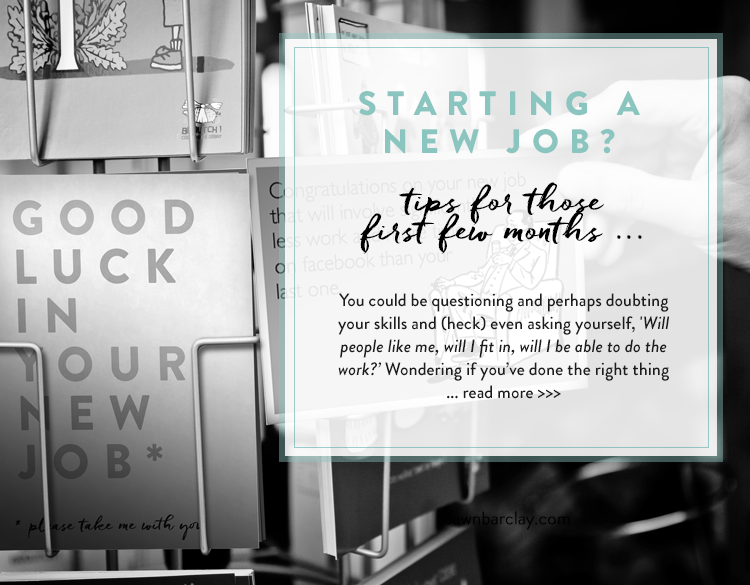 First up.
Well done you.
Huge congrats.
You've landed your new job, obviously the interview was an astounding success: you definitely impressed a few people with your skills, knowledge and gorgeous personality.
You thought the worry was over at the moment when they asked,  'Please tell us about yourself' at the interview but here you are now reading this little ditty because you've successfully swapped one fear for another: the interview fear for the fear of actually starting (or maybe you are a few days in and a little anxious because you have no idea if you've done the right thing).
You could be questioning and perhaps doubting your skills and (heck) even asking yourself, 'Will people like me, will I fit in, will I be able to do the work?'
I think it's known as a teeny-weeny crisis of confidence.
But let's get a handle on this, assuming that is you're going to pitch up, yes?
Let's talk about the inside 'stuff', the 'stuff' that has you worrying, those little self doubts that just might keep you awake the night before your first day.

What if the job is different to what you imagined?
Imagine you begin and the job is not exactly what you thought it was (from the job description and application form), what do you do?
Ignoring the ones who blatantly have no idea what the hell is required – no matter how hard HR bods and Managers try to accurately state what the role is and is required, they may not work at the face of the role and there could be discrepancies.
What do you do?
a) Leave at lunch time the first morning? (Don't laugh, people do this).
b) Stay a week and tell yourself that you'll decide at the weekend?
c) Give it a bit time and go with the flow?
No right answer there, oh, and in my past I have chosen all options, being the wise old soul that I am (cough cough), I would say option 'c' is the best solution, giving it time.
There is so much to take in and learn in a new job/role, it's probably going to feel as if you're all up in the air, this is perfectly normal. Give yourself time to learn the ropes and give yourself permission to be the newbie.
Will I Fit In?
One of the biggest fears or worries when starting a new job for many can be the question, 'Will people like me and will I fit in', my short answer to that is:
Yes. But that's too vague, huh?
Here's the thing:
You are technically the newbie and some people will be a lot more welcoming than others (that doesn't necessarily mean they like or dislike you.)
If you are entering a well established team, remember they are an already formed social group: roles, personalities, reputations, hierarchies (whether spoken or not) are being played, and being the new kid, you entering all that has to be established all over again.
As the new person, you're not just starting a new job with new tasks and responsibilities you are entering a well established community or social group, almost like a tribe.
And even if they haven't got them written down, they will have norms and rules they follow.
And no one will probably be able to tell you them.
Why?
Because they may not know them either or that they even exist. Honestly, humans are complicated and messy. Yet, they do exist, they are very real (if this stuff interest you, get your hands on Games People Play by Eric Berne, that's a link to Amazon), and being the new person it can be uncertain times ahead when you are trying to follow guidelines and rules you don't know.
And what feelings come with uncertainty? Nervousness, doubt and a lack of security.
Take heart – you will learn these 'rules' in time, and yes, you will become part of the community/tribe and you will eventually have your say at writing the new 'Unspoken Rules Guidebook' for your workplace. Unless you leave of course.
But say you notice things happening that shouldn't be, then what?
What if you witness bad practices? People only working when a boss is around? People bitching about others? People covering mistakes?  People deliberately sabotaging the work of another?
If you decide to say something, will you become the outcast?
What then?
What? You want my advice? Okay…
If you witness bad practice (against company policy, guidelines, rules) and it has the potential to harm others, don't you have a duty here? I'm thinking about care homes, and I'm thinking about bad practice and nobody speaking up. Obviously there are too many unknowns here, seek help. Union? Anonymous helplines? HR?
The rest? The human stuff like back stabbing, slackers, people taking the urine, well, for what is worth, every workplace is different and of course it depends on your values on what you will do or not.
I have worked with people who's only goal in a team was create to havoc: they 'waltzed' into their new role and assumed  (no demanded) respect, authority and trust immediately – they never lasted in the job long, as they haven't learnt that they are in a 'new role' as the new person and like all social groups (they have to earn it first).
And that takes time.  And these same people will hate every new place until they learn this.
Yet it can be accelerated.
How?
Here's a few tips:
You can prepare yourself mentally of how you want to be in your new role…you can think about your attitude, image, and communication skills.  Yet, you obviously can't prepare others. Show up as the person you said you were on your application, they are in there, right?
Be who you are

. You were hired on the value you can bring. Don't forget that. 
If you were to start a new role pretending (because you want people to like and love you) you will probably not be able to maintain that behaviour very long. Build your confidence. There's a wee free confidence course here.
Read and understand more on social groups, the way groups form and social roles – you'll learn about you and it's a skill for life that one.
Time – even a new member of staff starting work (to the existing staff) is change and not a lot of people like change.  It's not personal.
You are fresh remember. Like a new born baby you are not clouded or have any preconceived notions or ideas.  So allow time to get to know everyone, make up your own mind instead of listening to the 'this is what they are like' stories from other people.
Being the newbie – just because the label is on you, it doesn't mean to say you have to shut up and go along with everything. Own who you are. And you're smart, do this in a way of how you would like to be treated.
Praise Yourself – this may seem a little wacko, but here's what I mean – you may be a person that needs to hear you are doing a good job – you need it.  However, you may not get it in your new workplace.  I'm not saying you need all the compliments under the sun, you just need to know if what you are doing is the right thing.  Your new workplace might not be like that…one of unspoken 'rules' of the group might be 'we just get on with it'.  Learn how to compliment yourself – don't wait for the external world to tell you.
If you're nervous, it will pass.  As you are entering a new situation you may feel uncomfortable, it's not just a new job its: new people, policies, environment, politics, community – find your flow.  A good team will help with your transition (and yes there may be the odd bugger who does nothing to help you ) each moment will be come easier.
Ask for support and supervision.  What if they don't offer it? Suggest it?.  In fact (it's probably too late), it's a very good interview question.
Your goal is to work effectively with other people, some you will find this easy with, others not so well.  As long as the service and role you are carrying out is not affected then fine.
If you make a mistake – admit to it.  Easier than said than done? Back to the staff team, if they are supportive they will accept the error and you can move on from it.
Learn about emotional intelligence and enhanced communication skills. There are some people that could not give a rats tail about how their behaviour effects others (oh and there are some that are the emotional baggage handlers) strike your balance.
Here's a weird thing,
In my experience working with career changers most people love the first two weeks to a month. Its new, exciting, challenging, relationships and bonds are being formed all over the place.
Then when this time has passed people settle and they become more comfortable, only then can see faults and areas of the new job they are not happy with.
You're worried about being seen in the best light? See all those other people around you? They too are being on their best behaviour for you.
This is the test.  The first stage is a 'honeymoon' period, if there is one tip I could give you (right now) for this time it would be this, the real rewards come when you have all the information. Starting a new job is fantastic but nothing compared to the rewards an effective working team can achieve.
Be you, be calm, listen, be open, be aware all new experiences, take time to learn.
You've got this.
And should you ever need it:
Yeah, I know it may be a bit late because the horse has bolted, but if you ever do need help to work out what you should be getting paid for, I'd love to help you figure it out, maybe not today, but remember it's here if you need it some time down the line.

Love.
Dawn