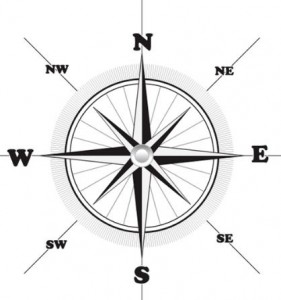 It's nearing the end of the year and chances are, someone somewhere has asked or you've read 'so what are your goals for the New Year' or worse 'what are you're New Year Resolutions?'

When you read those statements you may get a fleeting little fuzzy picture of some sort of ideal scenario in your mind of how you would like your life to be.
Then it passes as quickly as it came and you carry on doing what you were doing.
See, goals are great, yet they are only guestimations.
And resolutions, well…erm… I've said my piece on resolving gunk at new year before, and I still feel the same as I did last year.
Guestimations are fantastic.
Even better is having direction. A mission. A statement of intent if you like.
Let's play with writing a mission statement:

Assume you're a cruise ship heading from the Mediterranean to the Bahamas, the chances are you will make it to the sunny shores. You may venture off course every now and then, and have to correct yourself by make adjustments to get yourself back on the right path, unless you sink, you'll make it!
You will arrive because you at least know the direction you're sailing.
You will have set sail with a good enough plan.
Most people set sail in life with no direction.
No plan, no rough idea, or no thought of the land on the horizon.
They have the goal to sail, but that's it.
The entire crew of your ship before they raised even the anchor knew their mission and direction. Everyone systematically playing their part to make sure that you arrive in one piece.
Do you have a mission statement?
Have you sat down and thought (great first step, thinking that is), then captured (written, even better second step) your mission statement?
It's not the easiest task in the world.
Mainly because it's not something we're taught  and does require a little self reflection and awareness. And you may need to ask yourself some breakthrough 'Quest-ions'.
How to write a mission statement
Just write. Bullets, words, statements, remember the quotes that have stuck in your mind? Maybe they will help. I know, you may be have expected some secret tool, but there isn't one.
In short, you want to create a statement (how long is up to you) about who how you want to live your life and what person do you want to be.
Remember the 'fuzzy little picture' you get when people ask you what are your goals? You only need to spend sometime making those pictures clearer. Seeing and describing what would be your ideal (make sure your mission isn't someone else's mission.)
Don't edit, plenty time to refine later, just write.
You do know how you want your life to be, we all do.
Consider your career, your business (if you have one), lifestyle, health, spirituality, learning. It's your mission, it can be whatever you want it to be.
What you may find happen is: as you write the 'hidden' depths of who you are appear, again, don't edit.
Don't question what comes up as you write, don't dismiss what you think is 'impossible' or a dream. A mission is usually a big deal!
Refer to it often.
Rewrite it if needed.
Play with it. It will change.
It will begin to include values, goals, hopes, dreams, ways of being, ideals. The end result is creating your own little manifesto, a piece you can refer back to when you are making decisions about your life and career.
You may write to be a 'loving, considerate, listening parent', the next time your children test your patience where in the past a quick barking may have been on the cards, you may pause and remember your mission.
A mission sits in allignment with your core values. It's another piece of the life of passion and purpose puzzle.
It's just another tool to add to your personal development toolkit, yet a powerful one. Your choice if you want to give it a shot.
Your turn
Have you written a personal mission statement? Does it work for you? Is it something that keeps you on track? 
Want more? Sign up for my FREE newsletter "Moxie Musings" (not that it's called Moxie Musing, I just thought I'd better call it something less boring than 'Newsletter'), and you'll also receive: The Toolkit includes Dare to Be You - a little pep talk/love letter thing from me to you.