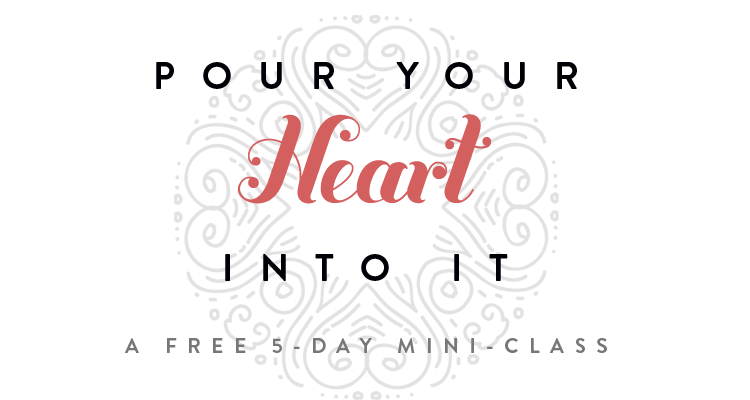 To complement Unfolding 2015, I've written a new (free) 5 part mini-class called Pour Your Heart Into It.
Update: Pour Your Heart Into It can be downloaded as part of Unlock Your Courage Toolkit, click the link for more details and how to sign up.
Why?
Well, two of the questions in Unfolding are: 'What was a defining moment for you in 2014?' and  'What did you discover about yourself in 2014 you didn't know in 2013?' and in another part you are asked to finish, 'And I will tell these truths about myself in 2015…'
The loss of my friend was my own defining moment. No doubt. See, it upsets me that she never felt quite good enough for the rest of the world, and it wasn't true.
Nobody. No-one. Not you. Not one human being should ever feel as if they aren't enough. Never.
I've known for a while I've been straddling two belief systems. On the one side is all-things personal development: all the tools and techniques to help you get good, be better, be more successful, that we aren't enough. And on the other is a spiritual belief system that says you are enough, now,  just as you are. 
I discovered this year that I couldn't stop the new belief system coming into my work, it's already here.
Clarity is when I follow my own wisdom, when the I (the Dawn, with a ego, National Insurance number, who drives a car etc) gets out the way and just allows things to unfold, trusts in something greater than herself, then the magic happens.
So, the truth I will tell in 2015 is simple, I would love you to stay, understand if you have to leave, wish that you tell your own  …
You and I are infinite beings having a human experience. You and I are complete, perfect and whole – except our thinking.
Life, and our experience of it happens from the inside-out, never the other way about. Work on the inner, the outer will change automatically.
You aren't alone, you have everything you need, you always have access to your own innate wisdom.
The truth of who you are, is also who I am, because we are connected – our true nature is peace, love, clarity, well-being, joy, happiness. That is who we are, that's the core – only our thinking is getting in the way.
We all have the ability to wake up to our true potential. All of us. Nobody is excluded. And you are entitled to miracles (clarity and correct perceptions).
Does this mean my work drastically changes? The funny thing is it has already been unfolding the past 18 months, I've just caught up. There will be less with the you aren't enough stuff so do this and more you are enough, you're plenty now what shall we learn together stuff. And, of course, all the usual sparkly-barclay madness and shenanigans will remain intact.
So, I suppose Pour Your Heart Into It is my coming out party.
It's 5 little emails to help you get out your head and into your heart, not just for 2015, for all the moments yet to come.
UPDATE:
Update: Pour Your Heart Into It can be downloaded as part of Unlock Your Courage Toolkit, click the link for more details and how to sign up.
Love,
Dawn